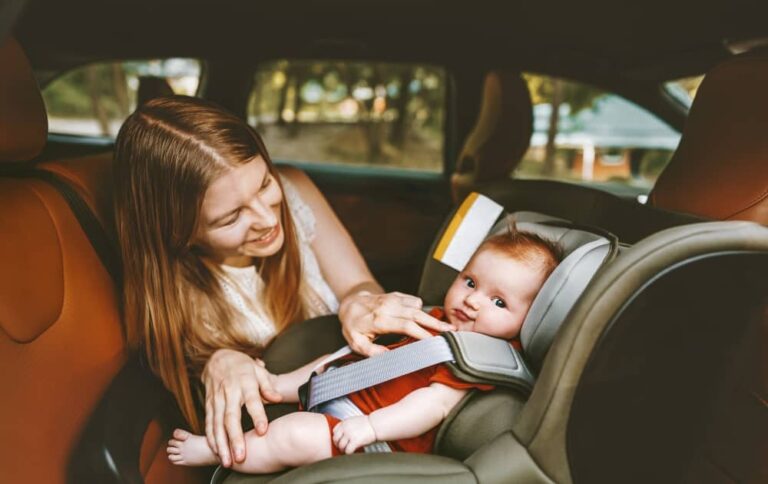 In Australia, using a child car seat when travelling with a child up to 7 years (or older in some states) in motor vehicles is a legal and safety requirement.
To ensure safety, parents must check that the car seat meets Australian/New Zealand Standard AS/NZS 1754. Apart from meeting this standard, it is also essential that the car seat is installed properly and adjusted based on the age of the user.
Types of Car Seats
Before skipping to learning how to install a car seat, the process is much easier when you know the exact type of car seat you will work with. That's because each car seat type is different when it comes to design, safety requirements, and purpose.
There are four popular types of car seats, which are:
Rear-Facing Car Seats: Also known as infant capsules, these seats are exactly what their name implies – they face towards the back of the car. They generally have an inbuilt harness and carry handle. This type can be used outside the vehicle, making it a versatile baby carrier. It's a great car seat for infants as young as zero to six months.
Forward-Facing Car Seats: The opposite of the first on the list, a forward-facing car seat faces towards the car's front. It also comes with an inbuilt harness and can be fitted with an extended harnessed seat, which suits children up to seven or eight years old.
Booster Seats: Unlike the above-mentioned types, booster seats do not have an inbuilt harness. They are typically used with a lap-sash seatbelt made for adults. However, if the seat is not compatible with that seatbelt, you still have to connect its lap-only seat belt with a child safety harness. This type of car seat faces towards the front of the vehicle and is suitable for children ages four to seven.
Convertible Car Seats: These versatile car seats can be configured as either forward or rear-facing, depending on your child's requirements. They have an inbuilt harness with some that can be used by younger children up until they are seven.
Some cars are already equipped with booster seats, which are quite convenient and may be suitable even for older children.
Pre-Installation Prepping
However, if your vehicle does not have a pre-installed car seat, you have to install one on your own, especially for the first six months of the baby's life, at the very least.
Before installing a new car seat, be sure that you have chosen the correct seat carefully. Read the car seat's manual thoroughly, ensuring to familiarise yourself with pertinent guidelines and requirements for installation. Before you begin, we recommend having all the tools and accessories, such as a locking clip or extra padding, within reach.
The final step is to clean the vehicle, mainly where you will install the car seat. With the objects and dirt removed, it is time to install the car seat.
Tips for Installing a Rear-Facing Car Seat
Begin by placing the car seat in the back seat, preferably in the middle, which is considered the safest spot for the young one. If the car seat does not fit securely, you can position it on either side of the backseat or in the second row if you have an SUV. Avoid the front seat at all costs.
Face the car seat backwards, which is safe for your baby until they grow out of the seat by height or weight. Rear-facing is important to younger children because it protects their neck, spine, and head, giving them 71% more defence in a car crash.
For cars made in 2002 or newer, you can find anchors and tethers, making attaching to the backseat much easier.
Tips for Installing a Forward-Facing Car Seat
Forward-facing car seats are for older toddlers and children. But just like rear-facing seats, these car seats should still be installed in the back seat at the centre seating position. The instructions can be found in the car seat manual, so follow everything to a T.
If you have a convertible car seat and it is time to switch from rear to forward facing, you may need to:
Move the harness shoulder straps to the spot around or above the kid's shoulders.
The recline angle usually needs adjustment to allow the toddler to sit more upright.
If you are using a seat belt, remember to check if it runs through the car seat's belt path. Also, inspect how the seat belt locks, keeping in mind that it should be tightened as much as possible without making the child uncomfortable in their seat.
Some safety seats have an integrated lock-off to protect the belt from accidental unlocking. If yours has, you will need to read the manufacturer's recommendations to determine how to use this feature properly.
If possible, use a tether, which refers to the strap attached to the top of the safety seat. It will hold the seat tightly, giving your child extra protection.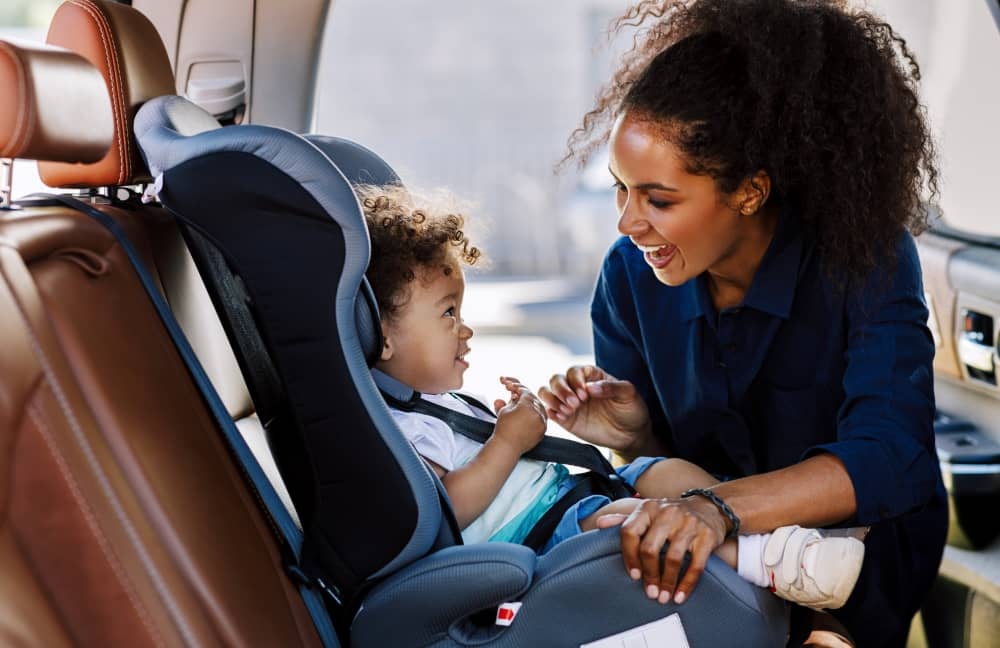 Common Mistakes to Avoid
Installing a car seat may appear easy, but it can be tricky, especially if you're a first-time parent. It's even more daunting when you realise that more than half are installed incorrectly. To be on the safe side, you can always hire a professional to do it for you. It also helps to know the following most common mistakes in car seat installation so you can take preemptive measures to avoid making them:
Not reading the car seat's height and weight guidelines
Not checking if the seat is installed loose, resulting in a lot of movement
Incorrectly positioning the harness by forgetting about the correct one for the child's size
Wrong recline angle, particularly for rear-facing car seats
Transitioning to a forward-facing car seat hurriedly
As emphasised earlier, proper placement in the vehicle is incredibly significant. Make sure that the car seat is installed in the centre of the backseat for maximum protection.
Post-Car Seat Installation Checklist
Congratulations! You have finally finished installing the car seat. But before you celebrate, you need to perform these final checks to ensure you have installed it correctly and properly:
Tug the car seat from side to side and front to back to guarantee you have installed the product securely. You've done a good job if it did not move an inch.
Straps should be secure, as well, without any visible slack. The chest clip should be at your child's armpit level whilst the harness is at or below the shoulders (rear-facing) or above the shoulders (front-facing).
The straps should also lie flat on the wearer's body. They should never be tangled or twisted, which indicates that they are routed through the wrong slots. This mistake should be fixed right away.
Ensure the buckle works and latches securely, giving you a click sound or feel whenever you fasten it.
Using the right car seat for your child and correctly installing it will surely give you peace of mind. Remember that your job does not end here, as you should still inspect and adjust the car seat based on your child's age, height, and weight. Shop for quality yet affordable car seats for babies and toddlers today!