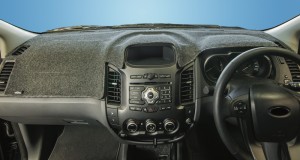 Safeguard your dashboard from cracks and fading with a moulded dashboard cover
Made in Australia 
The Dash Mats are made from Ultimat®, an advanced fabric designed to hold the moulded shape of any dashboard, without the need for a hard backing. This scientifically developed fabric breathes, preventing moisture build-up between the dashboard and the dash mat, it also absorbs vapours that are emitted from the vinyl of the dashboard and cause discolouration if left trapped underneath the mat.
This innovative product protects your dashboard from fading and drying out in the sun, which leads to cracking and peeling, and reduces the harsh glare from the sun.
Dash Mats are available for most passenger vehicles, utilities, 4WDs, and commercial vehicles in black or coal (grey) and come with Shevron Auto Accessories Unconditional Lifetime Guarantee.
As an Original Equipment Manufacturer and After Market preferred supplier for many of the Australian market vehicle manufacturers, Shevron Auto Accessories are a trusted partner to the "Australian Automotive Aftermarket".
With the same quality, reliability and service you have come to expect from all Shevron Auto Accessories the Dash Mate range will continue to meet or exceed customer expectations.
Manufactured, designed and distributed from our facility in Welshpool, Western Australia, Shevron Auto Accessories have been at the forefront of passenger and commercial vehicle protection since 1988. With national and international distribution capability and expert support staff Shevron Auto Accessories look forward to the next thirty years.
You can Always Trust a Mate!